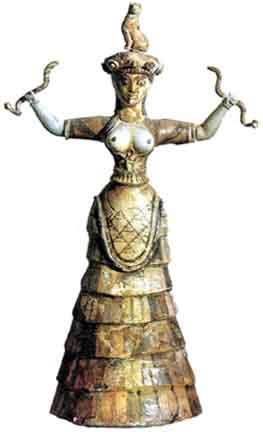 In the summer of 2007, I read the book that has changed my worldview more than any other I've read before or since:
The Dance of the Dissident Daughter
by Sue Monk Kidd. You may be more familiar with her as the author of
The Secret Life of Bees
and
The Mermaid Chair
.
I don't quite remember how I came across the book. I know the subtitle caught my eye: A Woman's Journey from Christian Tradition to the Sacred Feminine.
The Sacred Feminine?
I thought.
What's that?
Turned out, "that" was a huge part of what I'd been longing for and had been missing in all my previous religious experience. Kidd writes of being raised as a Baptist in the deep South, a heavily patriarchal culture and mindset to which I could certainly relate, having grown up Mormon in a rural and predominantly Mormon community.
Mormons actually have a doctrine about a Heavenly Mother, but I barely knew anything about her, except that we weren't supposed to talk about her, much less
to
her, because she was just
too
sacred. Even as a goddess, she apparently still needed the protection and authority of a man. My image of her was a downtrodden woman popping out trillions of spirit babies then not being allowed or able to have anything to do with them once their mortal lives began, just having to sit back, watch her children suffering, struggling, killing each other, but having to leave all the real parenting to Heavenly Father.
I became especially curious about Heavenly Mother after the I became a mother myself, right around the time I was
re-baptized and trying my damnedest
to regain a testimony in Mormonism and make it work. The gag order on Heavenly Mother discussions made me feel lonely. Motherhood was an important aspect of my life, for which I had no divine role models with whom I was allowed to communicate. I didn't know about sites like
Feminist Mormon Housewives
at the time. If I had, this story may have turned out differently, though I have no regrets about leaving the Church.
The debate rages about whether Mormons are "real" Christians, but the
love of Christ
was always part of my understanding and why I chose to stay within Christianity at the beginning of my post-Mormon seeking. I was attending a Presbyterian church here in Fargo pretty regularly. It was alright, though nothing that made me especially excited. That's when I found Kidd's book. I found the idea of a Goddess alluring, and I liked that one reviewer said it was firmly rooted in Christian tradition.
I couldn't put it down. She describes herself as a "conventionally religious, churchgoing woman, a traditional wife and mother," until one day in her late 30s she had a dream about giving birth to herself, and suddenly she "woke up." I related to the outrage, the pain, the longing of a soul yearning to burst forth and grow. Every page was a revelation:
I am as much like the divine as a man.
I cheered as she
found the courage to speak and live by
her
truth, rather than a truth handed down from authority, a model I've tried to follow as I
relearn how to trust myself
.
After reading, I concluded,
I will never find what I am looking for within Christianity.
It marked the absolute end of my looking to any sort of established religion as holding any sort of divine authority. Now my feelings are closer to,
I will never find all I am looking for within Christianity.
I do
find meaning
in the eucharist and the stories, songs and traditions. I find Christianity to be a mostly "in my head" religion though. For more earthy, sensual, bodily sorts of spirituality, I turn to a Mother Goddess.
Diana at Picaresque wrote about
the absence of Heavenly Mother for all practical purposes from Mormon practice and discussion, and writes, "I am not currently in need of a well-broken religious path to follow, but you may be assured that if that time comes, the path I choose will welcome and revere women and sing praises to a divine lady." Amen, sister!

If you enjoyed this post, I hope you'll check out my new blog.